Friday 23rd September sees the return of the annual Liverpool Acoustic Live 'Roots and Blues Special'. It takes place at our regular venue the View Two Gallery on Mathew Street and we've got two fantastic local acts and one top-class international act playing for us.
Mike Badger & The Shady Trio
Dom Newton
Trevor Marty [USA]
Tickets are £5 in advance or £6 on the door.
Tickets for all Liverpool Acoustic shows are available from wegottickets.com/liverpoolacoustic
Doors open at 8.00pm with music starting at 8.30pm sharp. The night finishes at 11.15pm
Mike Badger & The Shady Trio - Mike Badger, co-founder of The La's, went on to form one of the country's first alternative country/roots bands, The Onset, touring Europe and releasing two albums. He co-founded Liverpool's The Viper Label in 1999, releasing Liverpool-associated music and authentic US-themed rockabilly and country blues collections.He toured the US in 2009/10, recently toured the UK with Nashville band Buffalo Clover, and headlined last month's Above the Beaten Track festival at The Bluecoat. Mike's third solo album 'Rogue State' is to be released this November, and he's currently recording the debut album with the Shady Trio out in 2012.
myspace.com/theshadytriomikebadger.co.uk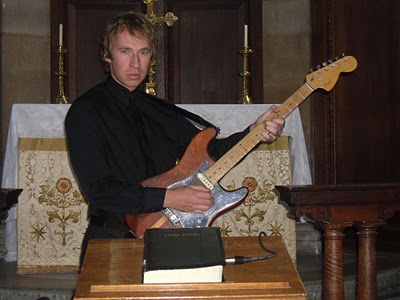 Dom Newton, the instigator and only true practitioner of the Horror Blues™ Genre, a vile spew of horror, religion and surreal ramblings, presents an acoustic set of braindead nonsense for your listening discomfort. Dom played for us back in February and brought the house down with his full-on, dirty blues sound - let's see what he can do with a longer set!
facebook.com/pages/Dom-Newton/184097608284458
Trevor Marty, from Rochester, Minnesota, is a fourth generation gigging musician. For the last 80 years someone in his family has been entertaining people, and now it's Trevor's turn. Whether he's on a resonator or a flattop guitar, his joy for playing is palpable and addictive. Trevor Marty is on a short UK tour and will be swinging on by the View Two Gallery on his way through Liverpool.
Liverpool Acoustic Spotlight #53 - September 2011
If you get the chance, please support your local artists by emailing them, joining their mailing lists, leaving them comments, going to their gigs, and buying their music direct from them where  possible. The Liverpool Acoustic Spotlight is produced and presented by Graham Holland on behalf of the Liverpool Acoustic website. It is also available on the Internet courtesy of Art In Liverpool FM (Defnet Media), and is a proud member of the Association of Music Podcasting. The theme music is King of the Faeries by Andrew Ellis from his CD Midnight On The Water.